This trail is the place to put info about the Black Bear, a trail we will be running during ColoradoFest 2011. I like the way everybody likes to make the trail more scary than it really is. I have led multiple groups of first time wheelers over this with stockers. This is a must do trail. This is me running it about 12 years ago with 31's and a 3" budget boost. This pix is of the hardest part of the whole trail. We will spot you through this. It is not hard and there are trees all around so going off the edge is not a major risk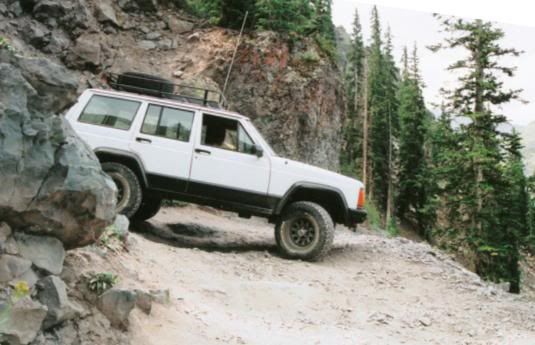 http://www.traildamage.com/trails/index.php?id=79
Feel free to link your pix and comments about the trail. We will be putting up maps and satellite images as well. If anybody has waypoints, that would be nice as well for the geeks.
__________________
Tom Houston - Former Colorado Chapter President, current Treasurer , Terminal Adrenaline Junkie, and Rocket Scientist
Loveland, Colorado
My teardrop build
You're just jealous because the voices don't talk to you.