The P.O.R. Wheelers Racing team and I headed down to Las Vegas this past weekend to take part in the longest off-road race in the United States, the Vegas to Reno.
Wednesday morning I met up with Bill and Lance at PDX to catch a morning flight to LAS. We arrived and Uber'd to the strip where we killed a few hours wandering around and people watching.
Eventually we made it to Texas Station, head quarters for V2R tech and contingency. We met up with the rest of the team, and greeted Ryan who arrived with the car.
While most of the team booked rooms at the casino, a few of us kept it interesting at a $40 a night BNB...
Thursday morning contingency was in full swing at the Texas Station. It was cool to see all the Class 1 cars, trophy trucks, and UTV's.
Ryan and Justin had the car in line for contingency while those of us driving dealt with registration.
Stopped by the JeepSpeed booth. Mike and the rest of the JeepSpeed community were very welcoming to us racing in their class.
We raced KOH on General tires and were very pleased with their performance. They were the title sponsor for V2R, and we had zero tire issues all race.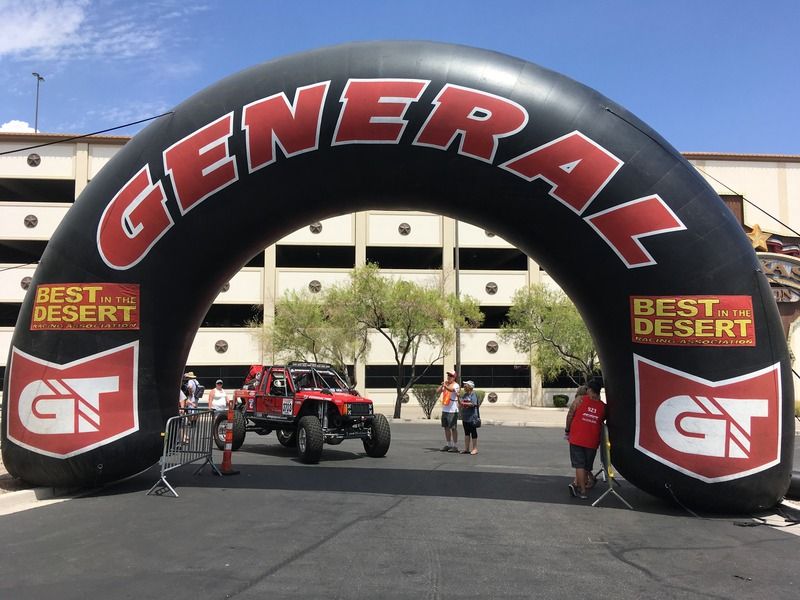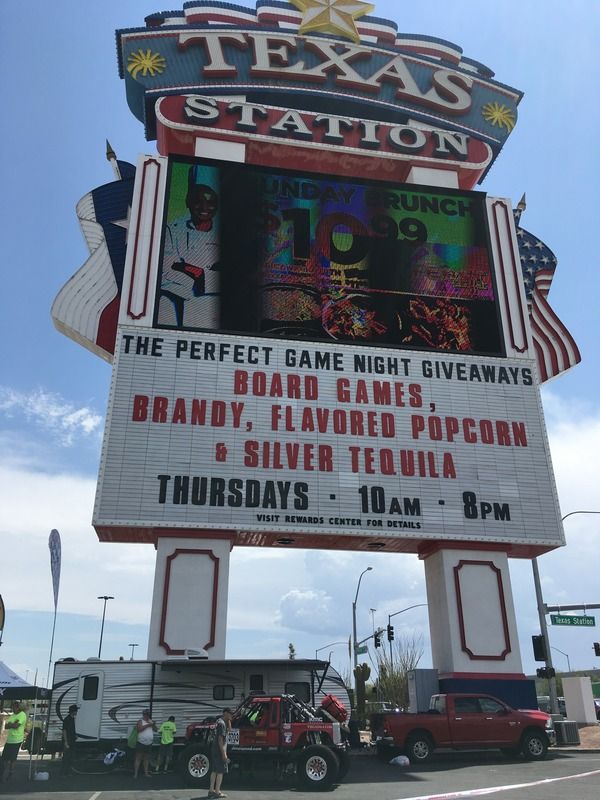 Passed tech inspection, and were cleared to race in the morning.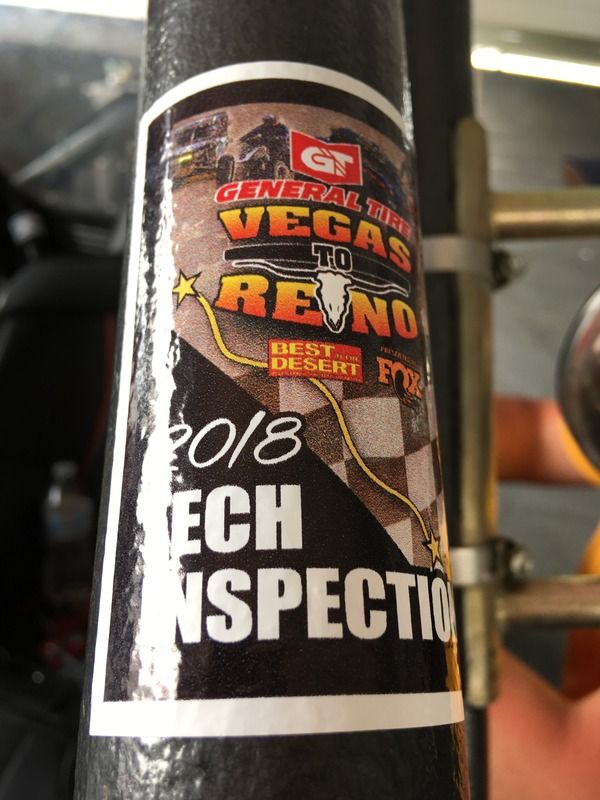 Parking lot filled with chase trucks.
Friday morning the team got together, divided up pit gear, and we set off for the town of Beatty where the race officially starts.
We had four drivers for this race, Joey, Maureen, Sam, and myself. Joey and I would be starting the race, and would be in the car for the first 100 miles where we would get out at Pit 3.
My nerves were pretty calm Friday morning, and even while staging. I felt confident in the team, and all of our prep work on the car. It was well over 100 degrees out, and sitting in the staging line in a triple layer fire suit, and full face helmet was brutal.
The 3700 class we were racing in was set to take off near the back of the pack (motos left 0545, ATV's, Trophy Trucks, and then the rest of the classes). We were rolling up to the start line a little after noon.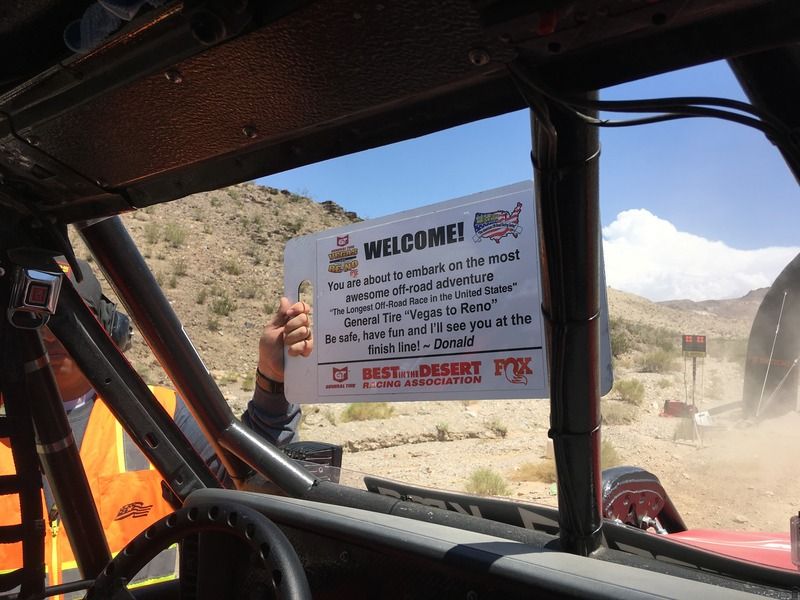 When the green light lit, Joey hammered down, and we were starting our Vegas to Reno race. We both agreed to use the first couple miles to settle in and get a feel for the car. This was the first time we had the car in high ambient conditions. We noticed when in second gear in the chop our trans would start to creep up in temp. There were a few times Joey had to check up and let it cool. We continued on, and started picking off cars ahead of us.
Best in the Desert uses RaceTrax transponders which not only act as a tracking aid for viewers at home, but also act as passing tools for the cars. I could press a button which would let the car ahead of us know we were looking to pass. Very useful tool, and it made it much safer for everyone on course.
At race mile 68, the car started cutting out on us. Our fuel pressure gauge was fluttering down to zero. Joey switched to secondary pump, and it netted the same result. We pulled off course, and I got out to take a look. After a bit of troubleshooting we suspected a vapor lock or heat issue. We let the car sit, and then got back on course with 60psi pressure.
Two miles out from Pit 3 I radioed into pit letting them know we were arriving, and what needed looked at. Joey and I got out of the car completing the first 100 miles. Sam and Maureen geared up and strapped in. Our awesome pit crew looked the car over, checked lug nuts, fuel dump, and found our fuel cell vent line was covered in mud possibly causing our fuel pressure issue. After a quick pit stop, Sam hammered down and was back on course.
Welcome to the desert.
I caught a ride to Pit 5, where I would be starting my 100 mile leg as driver. Waiting at the pit trying to relax.
Other teams' cars would come through and pit. These 1700 class XJ's were the Energizer bunnies of the desert. They just kept going and going. Lots of respect to this class of racer.
Sam had a fast pace going, and got the car up and over 100mph. Needless to say we didn't have much down time before they were coming into Pit 5. I got in, strapped in, and started our next 100 mile leg.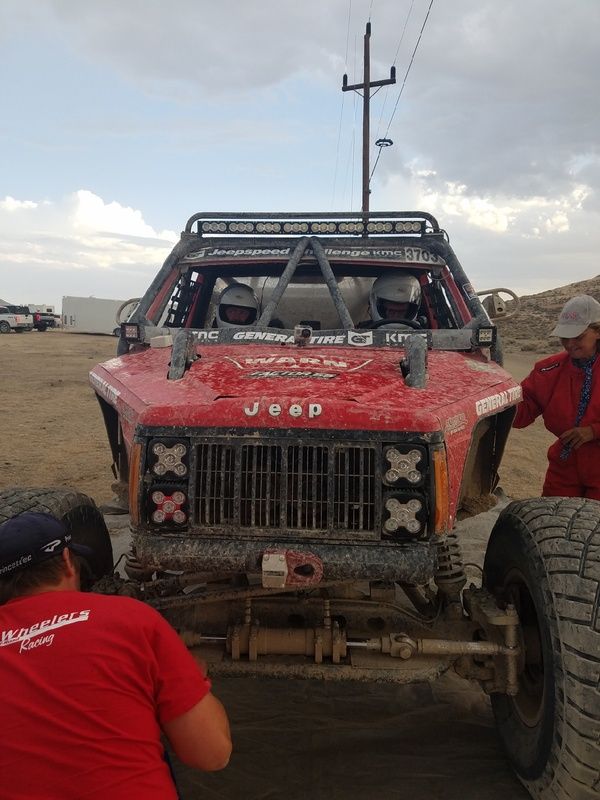 Just as I was pulling out of Pit 5 the rain started. It was actually kind of refreshing, and provided some cooling from the heat of the day. As 8:00 rolled near the sun began to set. We kicked on our LED headlights and light bar. It was a bit different driving at night, definitely had to check up on our speed a bit, but the car was doing great. Pit 6 was a drive by with no issues with the car. We continued on course, and stopped at the next pit, Pit 7 for a quick light bar adjustment. Pit 8 we rolled through with no issues, and eventually completed our 100 miles at Pit 9 around 2200.
Maureen and Sam got back in the car while the crew looked things over at Pit 9. After a quick fuel dump, and torque check Maureen was off on her leg of the race. I grabbed a ride to Pit 10 where we would see the car next. Thanks to folks at home tracking us online, we recieved text updates with race miles and speed. Maureen had an awesome pace going, 53mph, 47mph, 63mph. She was about two miles out from Pit 10, when the tracker showed 0mph.
We all anxiously watched the dark horizon looking for lights. With no radio communication with the car, we were left wondering. We eventually saw a light in the distance, it was Sam running the two miles to Pit 10. He was yelling, "we rolled the car, but we're okay."
A mix of emotions comes with hearing that news. Sam and Maureen were top priority, and it was a relief to hear they were okay. Sam said they rolled the car doing about 45 two or three times. It was on it's side in a ditch, and needed pulled over. Damage report was still TBD.
We could do driver changes at pit locations, so Joey swapped with Sam and began to hike back to the car. We talked with race officials and let their recovery crew know of our status. Joey reached the car, and assessed the situation. Mike with JeepSpeed came up on them, and agreed to pull the car back over. We can't thank Mike enough for stopping his race to help us out!
BITD recovery then towed the MJ two miles back to pit where we would be allowed to make repairs and continue our race if possible. The MJ was looking pretty beat up.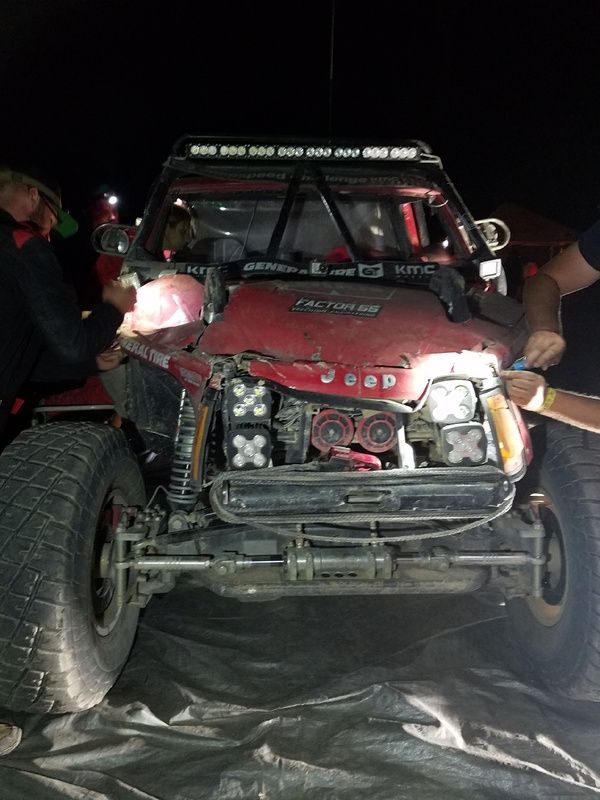 Everyone jumped in, and began assessing damage, and making repairs. The damage from what we could tell was mostly cosmetic to the front skins. We ripped all that off,and massaged our headlights back into place. Since the car was on it's side for over an hour, we opted to pull the interior panels to pull plugs. We cranked the motor over, and it puked a lot of oil out. Everything was reinstalled, and the MJ was fired up. A bit of a smoke show, but she was a runner.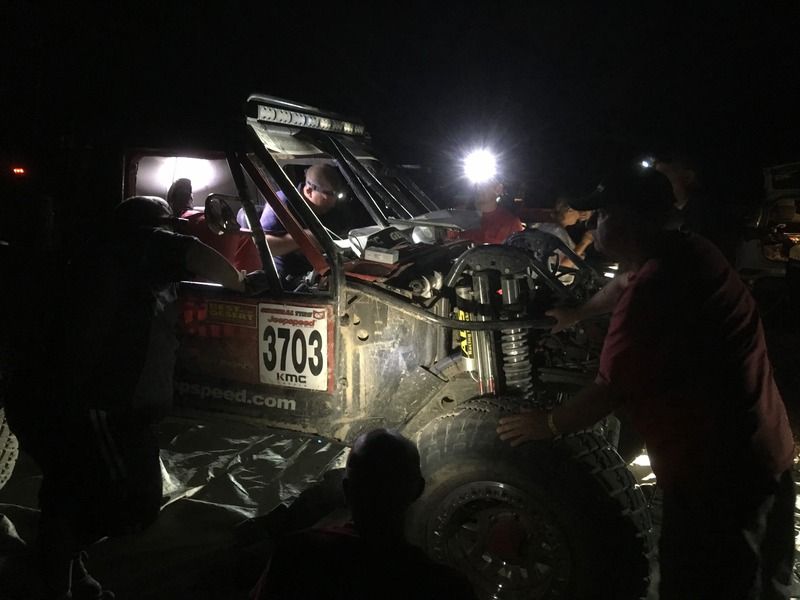 Pit 10 officially closed at 0145, at 0140 I was getting into the driver seat getting ready to continue our race for the finish. With Sam co-driving we set out into the pitch black desert with our crooked headlights leading the way. Just outside Pit 10 we hit silt, and a lot of it. Silt is very fine powder, but it's also thick. It's thick enough to bog down our LS motor. I had to grab first a few times just to power through it. Thankfully we had four wheel drive, and had no issues in it like a lot of the two wheel cars do.
Surprisingly the car had no issues after the roll, and was driving great. I drove it forty miles to Pit 11 where Sam and I switched seats at 0300. Sam would have 80 miles to get through on his leg. We continued on after a quick fuel dump, and began checking off the RM's. We completed the 80 miles with no issues, rolled through remote Pit 12 where BFG was, and then brought the car into Pit 13. Joey was geared up, and ready to drive the car to the finish. Sam and I talked it over, and I opted to co-drive to the finish. After a few sips of Monster to try and stay awake, we were off for the final leg of the race.
Joey and I watched the sun beginning to rise on the horizon. Fog covered the desert, and actually made for a pretty chilly few miles. We rolled into Pit 14 the last pit stop. Ryan and Lance greeted us, we took a quick splash of fuel, and set off for the final stretch. This was still a race though, and we caught up to a few cars, all of which pulled over to let us pass. We caught a trophy lite truck, who didn't respond to our RaceTrax pass prompt, horns, or siren. With no front skins, I felt Joey speed up for the nerf to their back bumper. They quickly got off course, and let us pass.
About 15 miles from the finish the course hits the rocks. Big enough to allow us to use our low range to finesse through them. After 515 miles, the last few miles of rocks were brutal on us and the car. We were both just praying to keep the car in one piece, and not lose a tire so close to the finish.
Eventually the rocks ended, and we began to drop into the valley. One more pass on a 1700 car, and the finish was within view.
Just after 0730 and 530 miles, 3703 crossed the finish line.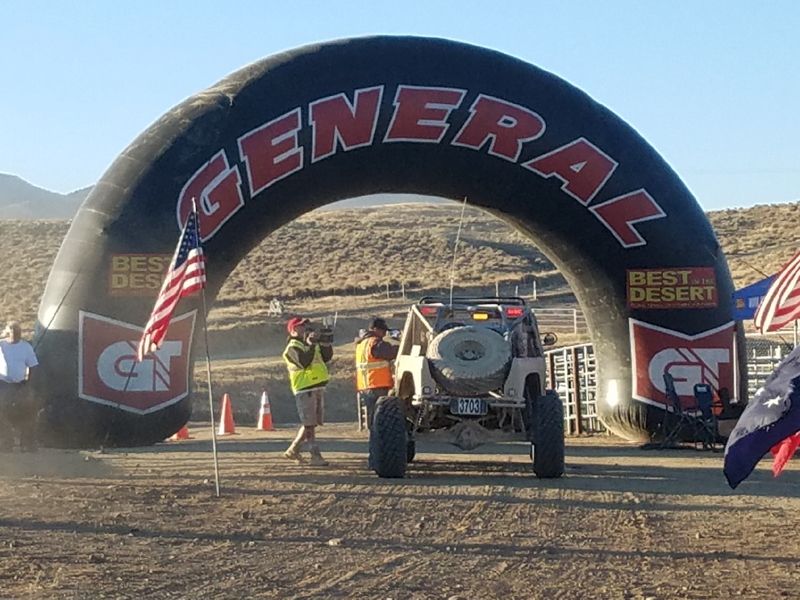 Finishing this race was so rewarding for the team. We were just drivers, who couldn't have done this race without our pit crew.
Huge
thanks to Ryan Bill, Lance, Conrad, Gretchen, Kayla, Justin, Dan, Winton, Maureen, Joey, and Sam.
Even after losing a good four hours to the roll, we still pulled off a 3rd place finish in our class. Not bad for a rookie race team, and a garage built jalopy.
The MJ will be torn down for inspection, and some cosmetic work. The team will discuss what our future race plans are. Whether it be KOH in February, or possibly another desert race instead. Stay tuned!