Since I have a kid on the way, the need for cash and something with more than two seats has arisen. So I'm posting up my 1988 Jeep Comanche SWB 4wd project. Clear blue title, runs and drives, registered till 10/18.
This was my project truck, that I had to end up rushing to get running when I moved a while ago.
I am asking an optimistic $3500, But I'm flexible, so O.B.O.
Many more pics are available on my build thread over on a Comanche forum.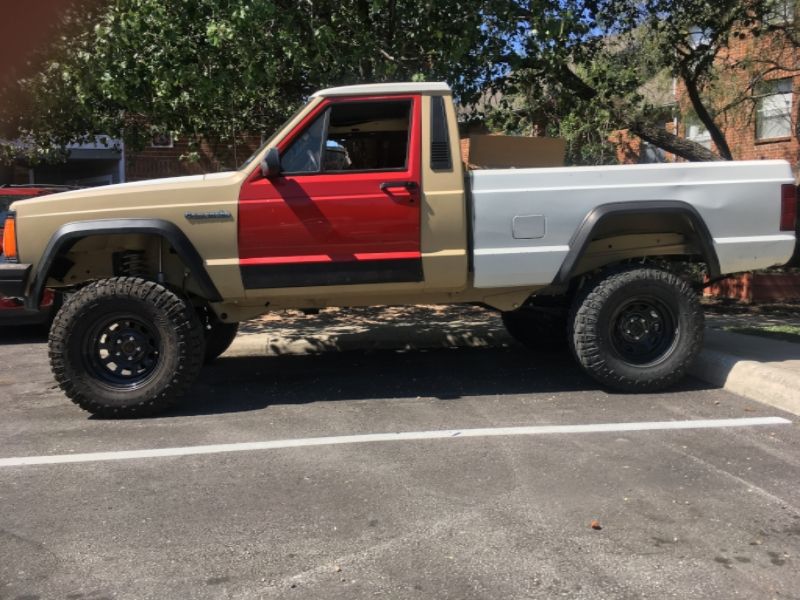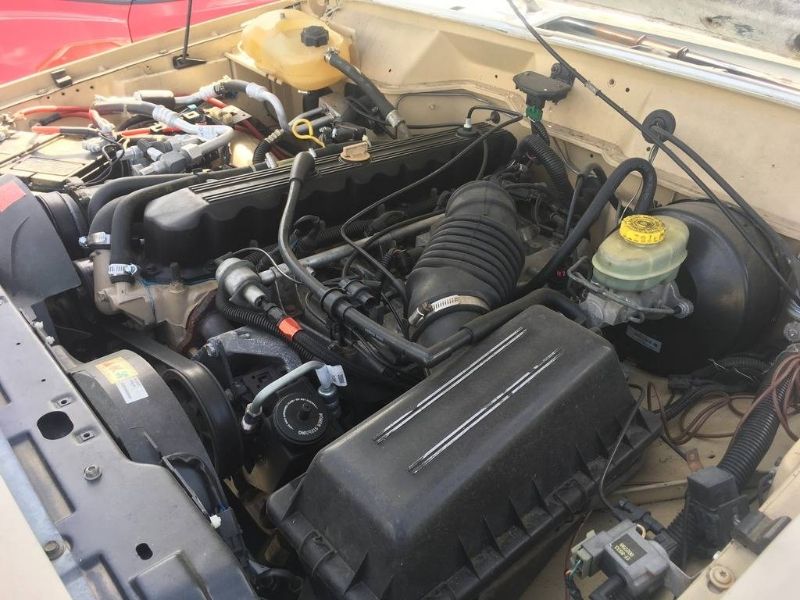 I picked up this truck as a project, starting out as a 4 cyl, 2wd truck. Swap was done using drivetrain from a 1991, 4.0 4wd.
Chassis has over 250k miles, engine is around 160k.
It runs and drives well, but is far from finished.
The bad:
- Transmission knocks in reverse
- Shifter does not seem centered in floorpan, so shifter is offset to the
front.
- Plastic dash knee panel is broken on the driver side.
- Part of the dash that retains the headlamp switch is broken.
- Wipers work at only one speed
- Factory bench upholstery is torn
- Headliner missing
- Steering wheel was replaced with leather OEM jeep one, but seems to
ooze a bit of plastic at high temperatures.
- Front driveshaft needs new u-joints, and to be reinstalled.
- Vacuum lines for front axle need to be installed.
- Air conditioning works, but has a leak somewhere.
- Paint is starting to crack.
There are many little things and issues to complete, but it has made the trip to FT. Worth and back a few times with no issues.
Truck was disassembled from the front bumper to the rear of the cab, sanded, coated and painted.
All new things were in the last 1500 miles:
Engine:
Radiator, A/C condenser, A/C lines, Heater core, water pump, Electric
fan, Hoses, belts, harmonic balancer, Plug wires, plugs, cap and rotor,
valve cover gasket, filter adapter o-rings, and oil pan gasket.
New Clutch and rear driveshaft u-joints.
Steering and suspension:
B-Lee's Offroad HD Crossover Steering
Remanufactured Steering Gearbox
Rough Country drop steering knuckle
Rough Country adjustable track bar and bracket
Rough Country 2.0 Shocks, front/rear
5.5" Springs (Rubicon Express)
Adjustable control arms (Freedom Offroad)
SOA kit (Rocky Road Outfitters)<- Cheap, I know.
Brakes:
Rear Axle Height Sensing Valve eliminated, factory distribution block
replaced with Wilwood Adjustable proportioning valve.
New brake booster (96 xj dual-diaphragm)
Used 1996 brake master cylinder
New extended brake lines
New extended brake cables (Cab to axle)
New brake pads, drum hardware, drum shoes, wheel cylinders.
The interior parts are mostly in good shape, The factory upholstery is torn. The carpet was replaced, but badly measured, so the hole for the shifter is slightly off. End of plastic knee panel broken, as is plastic where the headlamp switch mounts. Gray mini-console.
If you have any questions or would like more pictures, please ask!